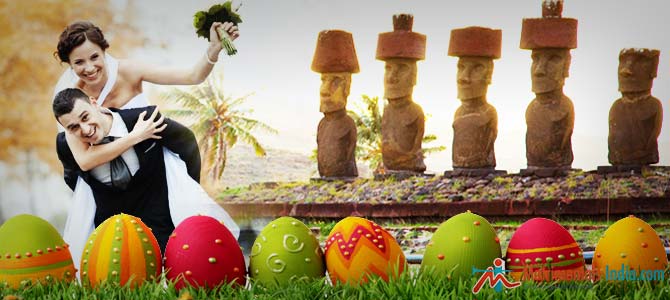 Easter or Resurrection Sunday is the day Jesus Christ was resurrected from the dead after getting crucified by the Romans. The powerful Son of God sacrificed his life for the sins of humans and came back to life to restore their faith in righteousness. The story of Jesus's death and resurrection has countless life lessons that can be incorporated into life and especially in marriage to make it happy and successful. It teaches us to give without expectations, forgive the faults, offer love even when there is nothing to receive and much more. Not just that, Easter also teaches us that Jesus wants his children to give a new life to even a dead relationship before completely giving up on it. When it comes to love and marriage, there are several other lessons and values that can be imbibed from the resurrection of Jesus Christ. Discussed below are the top five lessons that can be taken from Easter to restore marriage and love.


Looking For Brides Or Grooms ?
Register here Free and Find Easily
Offer Unconditional Love : Jesus Christ bestowed all of us with unconditional love and even died for our sins. According to the Holy Bible, Jesus was indeed a personification of love itself and wanted nothing but to offer unconditional love. Take this lesson and use it in your marriage. Get rid of all the expectations and focus on loving your life partner unconditionally. Jesus lay down his life for his people and desired nothing in return. Shower your beloved with such love and generosity to see your marriage growing stronger.
Put Relationship Ahead Of The Rules : There are many instances when societal rules and regulations overshadow the love that a couple shares and put the marriage through rough roads. Jesus Christ taught us the rules and regulations are for the well-being of humans and their relations; any of these rules should be broken sooner than letting it affect a happy marriage. Jesus turned many laws of religion upside down and you have to take this lesson from Jesus and set these rules aside and value relationship over everything.
Forgive Their Mistakes : While getting crucified, Jesus said his last words, which resonates, "Father, forgive them, for they do not know what they are doing". Jesus Christ readily forgave every human and rid them of their sins even after knowing that it was these humans who were hurting him the most. This life lesson from Easter should be imbibed into the marriage and the partners should learn to forgive their beloved for any and every mistake. Forgiveness is the foundation of the Christian belief system and must also be for your marriage. You must be able to forgive your spouse for all their mistakes, be it big or small.
Choose To Keep Promises : Jesus Crist said, "And now I am about to go the way of all the earth, and you know in your hearts and souls, all of you, that not one word has failed of all the good things that the Lord your God promised concerning you. All have come to pass for you; not one of them has failed." He always fostered the view that men must choose to keep promises like he himself did. He never broke a single promise he made to mankind and returned to Earth once again on Easter. His life lesson must be taken into marriage and all the promises that a partner makes in holy matrimony must be kept forever.
Restore And Resurrect Marriage After Death : The biggest lesson that one must take from Easter is the message of resurrection from death. On the Easter Sunday, Jesus Christ resurrected from the dead; you should be able to restore and resurrect your marriage as well even after it has hit the rock bottom. No matter how difficult things may seem in the marriage, trust in God, love, and oneself can easily help resurrect even a dead marriage. Brides and grooms, boys and girls, all of you should believe that God is the redeemer and the restorer and can help your marriage back on track.
Jesus gave us a number of life lessons which, if incorporated in marriage, can make this pious relationship a heaven. Be it loving unconditionally, forgiving always, keeping marriage above all rules, keeping promises or resurrecting marriage after all difficulties, there are many lessons that one must take in his/her marriage from Easter.