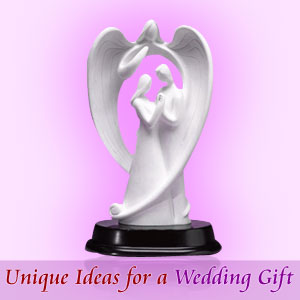 What is the most important and special time in a couple's life? The answer to this question is of course their wedding. They invite friends and relatives to be a part of this wonderful celebration called wedding for giving them blessings and pray for their bright future together. People who become the part of their celebration wish to express their happiness by giving them gifts as token of love. However, deciding what can be the perfect wedding gift for a couple is not at all easy. There can be so many things that a newlywed couple would need, but you want to make your gift the most memorable one.

For simplifying the daunting task of searching for a wedding gift, we have summarized a list of great gifts, which you can consider as a perfect wedding gift for your loved ones.

Go For a Signature Platter
What else other than a signature platter can make a wonderful gift for a couple on their wedding day? A couple can keep it as a personalized gift by getting it signed by everyone who has attended their wedding. This can be an ultimate way for them to remember their wedding day and also those who were part of their happiness.

Luxurious Hotel Room for Making Their First Night Memorable
Nothing can beat the charm of well-decorated luxurious hotel room filled with the mesmerizing fresh flowers and aromatic candles. This will make their first night as a couple memorable and they will remember you for making it special in equally special way.

It's better to check out with the bride's and groom's parents whether such reservations have already been made or not. For not missing your golden chance, inform them early about your gifting plans before they make reservations for the same.

A Gift That Can Stand the Test of Time
A bottle of fine wine or scotch, a piece of art, a gorgeous vase, photo frame engraved with their names on it, an antique piece of furniture, etc. make an excellent gift item. Such items lasts for a longer period of time and couple look upon them fondly after few years of marriage and remember the person who has gifted them the time tested piece of remarkable gift.

Add More Sweetness to Their Honeymoon
Now, if you are very well-aware of the place where the couple is going for honeymoon then it is an excellent chance for you to surprise them with your very special wedding gift. Give them a certificate of the finest restaurant or resort of that place, so that they can have their best time together.

Hope, we have solved your problem of searching for a perfect wedding gift to an extent. These gifts are not only memorable but unique as well and they will convey your true love and blessings to the couple.