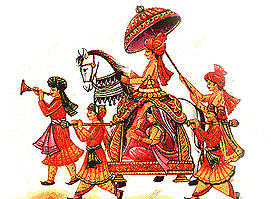 Marriage is an unswerving bond that is considered sacred especially in Hindu Dharma. It is not merely a physical union but a spiritual connection.
Choosing a life partner
is a very complicated task that requires your complete indulgence. Since the earlier times the search and selection of the bride or the bridegroom is a matter taken up by the elders of the family (mostly parents). The decision is always in their hands. Before a Hindu marriage is solemnized there are various stages that the boy, girl and their families cross.
Looking For Brides Or Grooms ?
Register here Free and Find Easily
Here are the stagesSelection of a couple :
To find a suitable match, different matches are considered. Advertisements in newspapers, signing up with
marriage portal, ( MatrimonialsIndia.com )
, etc. are few steps that are taken in order to search a perfect match. Short listed matches arrange a meeting and then the families meet, boy and the girl are allowed to see and talk to each other. If the match is approved then the Kundli or the Horoscope is matched. After everything goes fine, betrothal ceremony is fixed.
The Betrothal :
On the decided date betrothal takes place under which a small ceremony is performed and the girl and the boy are blessed with some holy prayers.
Pre-Marriage Ceremonies :
This is the most important and unique thing that is not found in the foreign culture. Different ceremonies are :
Ring Ceremony
Tilak
Mehndi
Peethi
Ladies Sangeet
These ceremonies are celebrated with great pomp and show. Relatives and friends are invited to participate and bless the couple.

Beautification of the Couple : Both the girl and the boy are adorned with precious jewels. The preparation of the marriage that is shopping takes place months before the wedding. Clothes, jewelry and various other items needed for the marriage are bought.

The Marriage Performance : The day of marriage is the most auspicious occasion in the life of any boy or girl. It is the marker of a new beginning, a new life. On this day various holy ceremonies are observed. The final knot is tied in front of numerous people (relatives, friends, neighbors, etc.) and a grand celebration along with the feast is hosted by the girl's family. Resuming the seven pheras, around the sacred fire ties the two people in a never ending bond

This celebration extends to few days after the marriage. Thus after clearing all these stages a Hindu marriage is solemnized and the two people are united forever.