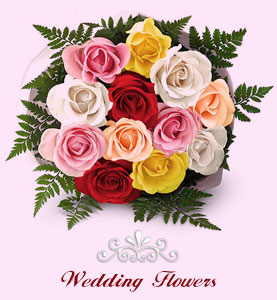 The first thing that strikes the mind when you hear the word' Flower' is the colored soft petals with an enchanting fragrance. Flowers are nature's best produce and mostly their softness is associated with human emotions. These emotions form a base of a relationship and are believed to be best expressed through external agents like flowers.
Significance of flowers in the Indian Weddings
Wedding is the union of two souls and individuals and it is almost impossible to imagine an
Indian wedding
without flowers. Every color of a flower translate a specific emotion so it becomes very important to choose the flowers carefully specially when they have to be used in a wedding. During a wedding, right from the decoration to the varmala to the religious ceremonies, flowers have an important role to play. The whole wedding house and venue is decked up using different color flowers. But for the wedding planner or organizer it becomes difficult to manage the arrangement of flowers. Here, in this write up we will offer you tips for
Wedding Flowers
:
Selecting a florist :
This is the foremost step that you need to carry out. Just follow the given tips:
Opt for a reputed and specialized wedding florist of the town : For this you can browse the internet or ask your friends.
Always ensure that the florist is near to the wedding venue : This will ensure that the flowers that are used are fresh.
Ensure that the florist guides you what flowers to buy, in how much quantity and within a fixed budget.
Flowers or garlands needed other than decoration :
Flowers are considered sacred so they are used in Mandap, religious ceremonies and most importantly garlands are used for varmala purpose. So, always assure that these are booked beforehand. The flowers used in the varmala can be selected by your choice so do it well-in-time.

Also, garlands are required at the time of Milni and Aashirwad ceremonies. So, count the number of people and then order the garlands.

Different types of flowers for different ceremonies :
Every wedding ceremony demands different kind of decoration. Flowers used for traditional ceremonies like tilak and mehndi will be different from those used at occasions like sangeet and reception.

Flowers needed for decoration can be in different forms like :
Bouquet form
Only petals are used
Flowers, cut in pieces
The form to be used has to be decided in advance so that they are decorated without any obstructions.

Maintaining the freshness : Stale flowers, instead of adding grace to the decor, degrade it. So, it is essential to keep the flowers fresh. What can you do to keep them fresh?
Cover them with wet cloth
Sprinkle water on them on a regular basis
Put the flowers in water and add sugar, lemon juice and bleach to them
Some more vital tips :
Choose the flowers as per the overall decoration
Don't overdo the decoration
Feel free to take suggestions from your friends and relatives
Thus, using our tips can ensure you that the most elegant of the decoration on your wedding day. Tying the sacrosanct knot among the pleasant fragrance and presence of the vibrant flowers will keep your life blossoming in the similar way.