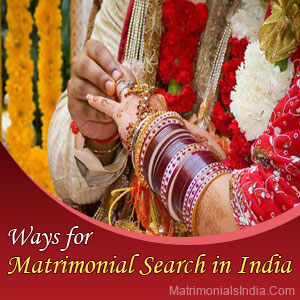 India is a country of amazing cultural diversity. There are so many religions, languages, castes and customs prevalent in the country. However, one thing that is common in this overwhelming diversity is the strong belief of the Indians in the institution of marriage. All the communities have strong significance of the tradition of wedding in their culture. The most interesting fact about Indian Marriages is that each community has a different style of tying the lifelong knot.
Indians are well known for their high cultural values. They believe matrimonial bonds to be the one of the most sacred relations of their life. Unlike some western communities, Indians believe once they get into a matrimonial relation, they get committed to their partner for lifelong. Thus, before tying the knot with anyone, Indians prefer knowing all about the prospective bride or groom. Since Indians like to get wedded with a person who belongs to the same religion as them, sometimes it becomes a little difficult to find the right person easily. The problem of finding the
ideal partner for marriage
has a solution in the concept of love marriage. Somehow, majority of the people still believe in arranged marriages. Indians frequently take the help of following methods for finding their dream partner :
Recommendation of acquaintances : This is the tried and tested way of searching a bride and groom. Generally, just when one reaches marriageable age, the relatives and friends start looking for a suitable bride or groom for their loved one.
Classified Advertisements : People have been giving advertisements seeking appropriate alliance in newspapers since a long time now. This method is very popular as just by giving some limited informati0n, one can expect immediate response.
Matrimonial Agencies : Some matrimonial agencies have sprung up to facilitate people by helping a suitable match. They work just like a relative in order to finalize a perfect matrimonial bond.
Matrimonial Websites : This is one convenient way to find the ideal life partner. It enables one to go through profiles of various prospects without having to actually meet them.
Looking For Brides Or Grooms ?
Register here Free and Find Easily
Thus, at present there are sufficient ways to find the ideal life partner for yourself or your loved one. Lets hope the method you choose leads to a beautiful matrimonial bond