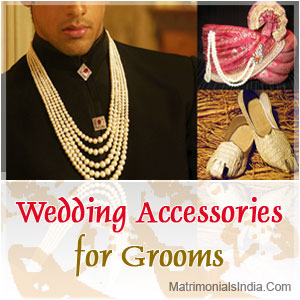 All set to tie the wedding knot with the women of your dreams?


Looking For Brides Or Grooms ?
Register here Free and Find Easily
If your answer to this question is yes, then think again. Though you may have done all the preparations of your dream wedding to the your utmost satisfaction yet you may end up feeling a little disappointed on the big day if your look is not up to the mark. Thus, pay equal attention in grooming yourself for your wedding day to sweep your bride off her feet with your manly charm. It is a well-known and accepted fact that brides make sure that they put their best foot forward on their wedding day. It is time that the Grooms realize the importance of being well dressed on this once in a lifetime occasion. Selecting the right outfit is not enough; the groom's attire must be complemented with the right accessories also. Following are some accessories for the guys that will complete their wedding look: If you have decided to wear a Sherwani or any other traditional attire on your wedding, then you must have the following accessories :
Turban
:
First of all, decide whether you will wear a readymade turban or tie a turban on your wedding day. Then make sure that the color of your Turban complements the color of your sherwani.
Kamarbandh
:
Select a color that matches your outfit. Check the length of your Kamarbandh beforehand, so that it's not uncomfortable on the big day.
Juti
:
There are different varieties of Jutis, or Mojris available in the market. Pick the one that matches the color and work of your sherwani. You can also get Jutis custom made for yourself.
Other Accessories
:
Sehra is another important accessory to complete the look of traditionally dressed Dulha. Some grooms also wear Kalgis to enhance their look. Guys can also wear traditional Malas. Moreover, the case in which the sword is kept (according to the Indian tradition) should be well polished. Now that you are aware of all the accessories that will make you look more stylish on your wedding day, don't wait! Start searching for the right accessory right away to make sure that you look as attractive as your bride. Get Wedding Planning and Ideas