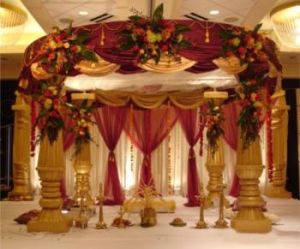 Wedding day is the most awaited occasion that almost every boy and girl dream of right from the very early age. Wedding is an extravagant affair that is celebrated with great pomp and show. Be it any religion, region, culture, etc. weddings are solemnized in a grandeur manner. Indian wedding is not a matter of one day but many.
Looking For Brides Or Grooms ?
Register here Free and Find Easily
There are various ceremonies that take place during an Indian wedding; they are largely categorized into pre-marriage, wedding day and post marriage ceremonies. What makes these ceremonies spectacular and vibrant? The lively atmosphere of the house and the magnificent decorations. An Indian wedding is considered incomplete without decorations. People are always seen worried about planning the decoration; wedding decorators are also hired.
But it is not that difficult a task; here are some decorating tips for different marriage ceremonies.
Engagement day decorations
Engagement is the most important pre-wedding ceremony that requires suitable decorations. Flowers, excellent lighting, designer tents and artifacts are widely used as decoration materials. The trends have changed and the engagement parties have become theme based so the color selection is done in accordance with the theme.
Wedding day decoration
The decorations on the wedding day need to be something extraordinary and exclusive. The decorations are as per the money spent by the host. The times have changed and the boring old designs of tents are no more in use. The Shamianas that are used are available in a variety of designs, fabrics and colors like Gujarati work, Bandhani Print, Satin, Mirror work etc. Colors used are vivacious like red, orange, golden, etc. Also, use of candles and lanterns as decorative pieces add life to the decorations.
Mandap decoration
Mandap is a place where the bride and the bridegroom exchange vows and take the auspicious seven pheras. Earlier it was only decorated using flowers but now people spend money to ensure that the mandap decoration is marvelous and contemporary. Use of net and satin cloth tent along with flowers and torans make the mandap a stand out place in the whole wedding avenue.
Sangeet day decorations
Sangeet is a ceremony that is associated with dance and songs. It is celebrated a day before the marriage in order to express their happiness. Nowadays, people refer Sangeet ceremony as DJ night so the decorations are very modern.
Besides these there are various other ceremonies that are celebrated in an Indian Wedding (different castes and religions have their own ceremonies) like Tilak, Mehndi, etc. but whichever is the occasion the wedding ceremonies must reflect colors and high spirits.
Extra tips :
Use different colors and species of flowers wherever possible.
Use soothing fragrance: light incense stick or use room fresheners.
Thus following our
wedding decoration
tips you can have a grand wedding that is appreciated by all those participating in it.