Wedding Traditions & Customs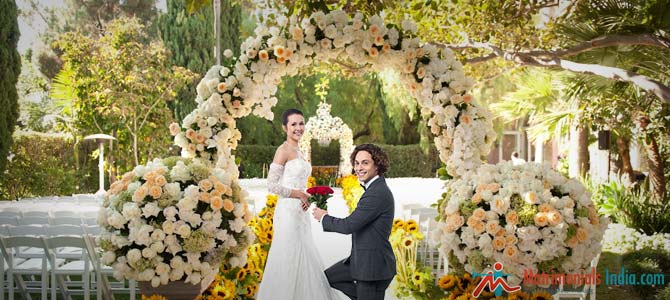 Weddings are a joyous affair, both for the couple involved and for their near and dear ones. Irrespective of which corner of the world the bride and groom belongs to, weddings are cheerful occasions that are celebrated with great pomp and fare. Depending on which faith the bride and groom belong to, there are different traditions and customs that are followed. Here we are going to highlight some customs and traditions that are particular to catholic marriages.
Giving Away Of The Bride : As per this popular custom, the bride walks down the aisle with her father, & when they reach the stage the father hands over the bride to the groom. This custom is symbolic of the fact that the father is entrusting the groom with the care of his daughter from here on.
Wedding Vows: Though there are standard wedding vows that are traditionally used in most catholic weddings, many a times the bride or the groom add a personal touch and write their own vows. These wedding vows may be funny or sober; a simple declaration of their heartfelt love for their partner or a promise to treasure their partner for a lifetime.
Challenge : As per this custom, the priest calls upon the guests assembled in the church to raise their hands if they have any objection to the match. In the absence of any objection, the union is considered to be holy and complete.
Bouquet Toss : Once the union is considered complete, the bride turns around and tosses the bridal bouquet into the crowd of unmarried women. The bridal bouquet is considered lucky and the unmarried woman who catches it is considered to be next in line for marriage.
Tossing Of the Wedding Garter : Just as the bridal bouquet is considered lucky for the unmarried girl who catches it, the garter too has the same symbolism attached to it. As per the custom, the bride is asked to sit and the groom proceeds to remove the garter from her leg which he then tosses into a crowd of unmarried men.
Apart from these, there are many more customs associated with a catholic marriage. All of these customs have a symbolic meaning behind them; knowing the symbolism gives us a better understanding of the whole wedding ceremony.