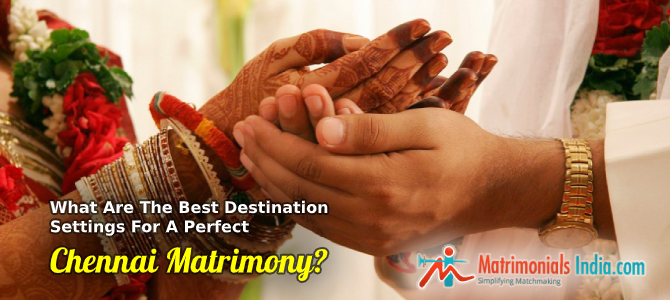 Chennai, the capital of Tamil Nadu, is one of the most popular cities in South India, especially if your mind is currently occupied with a wedding.
Chennai matrimony
is growing as a concept among the people of different parts of India but has been traditional among the people of Chennai. These weddings are very beautiful and lined with some awe-inspiring rituals. But what makes them so unique and memorable are the settings that act as a backdrop for these weddings.
When you enroll for Chennai matrimony, you sign up for a unique experience. Whether you are going for a destination wedding or just want to find the most beautiful way to make your wedding day unforgettable, Chennai has made its way to the most popular locations. There are a wide number of versatile settings and destinations that can serve as an ideal for your
wedding
. If you are also going for a wedding in Chennai, here are some of the best settings along with the top destinations for the same.
Beach Wedding
Chennai, located on the shore of the Bay Of Bengal in India, is home to the second largest beach in the world. One can find a treasure trove of seaside locations when one is planning for a beach wedding. A beach Shaadi in Chennai could be a memorable affair as these beaches are still not that explored by the wedding industry. You can find beach resorts that host premium and luxuriously big and grand weddings in Chennai. On the other hand, if you are looking for some peace and quietness for a small wedding with just your near friends and families, you can find similar beaches for that as well.
No matter what your marriage plans are or how your dream beach wedding looks like, Chennai is a place that can certainly host unforgettable weddings. The setting of the city is tropical and there are many sun-kissed beaches that host the best sunrise and sunsets in Chennai. So, with the turquoise waters in the backdrop, opt for a beach wedding in Chennai. The Intercontinental Resort near the Chennai Airport has a huge lawn overlooking the beach to host beach weddings. The Ideal Beach Resort, Chariot Beach Resort, and Taj Fisherman's Cave are other great locations for beach weddings. ECR or East Coast Road is another popular beach destination where you can find a number of beaches and resorts to host your ideal beach wedding.
Temple Wedding
Temples are the places that are ideal for divine intervention on your wedding day. Weddings are sacred occasions and should be treated the same way. You can add to the sacredness of the wedding by hosting your wedding at one of the many temples in Chennai. The capital of Tamil Nadu is known for its countless temples that are an epitome of architecture and spirituality. Especially the town of Mahabalipuram in Chennai. The wedding of Ananya and Krish in the movie 2 States was organized in this temple precinct and made a huge impact on the brides and grooms who wanted the same setting for the weddings.
The Shore Temple in Mahabalipuram could be your ideal location for your temple wedding in Chennai. No matter how modern you become and have your matchmaking done through some trusted online portal, the charm of organizing your wedding in the positive vibe of the temples can be achieved with a temple wedding. Apart from Mahabalipuram, today, you can also say the holy vow with your life partner by getting married in the temple of Madurai. There are 14 gopurams of the Meenakshi Amman Temple and is also the house of many other temples. You can choose either of these temples and get a wedding planner to plan your temple wedding.
Modern Setting Wedding
When you do not want to have that much fuzz with your wedding, a contemporary style wedding is what you can opt for. There are many hotels, banquet halls, and other similar modern settings in Chennai that can be apt for you. When you can be that modern to choose your Chennai bride or groom by going through
matrimony profiles online
, why not opt for a similar modern style wedding while ditching the traditional mandapam venue. The Leela Palace, Taj Club House, Park Hyatt, Radisson Blu, Hyatt Regency, Hilton, Le Royal Meridian, Radha Regent, etc., are some of the common places for hosting your contemporary wedding in Chennai.
Heritage Wedding
rnAnother popular theme for your Chennai wedding is a heritage wedding. When you are in Chennai, there are many heritage sites that can serve the perfect backdrop for a unique wedding. Whether you are a Tamil or a Hindu or belong to any other religion or ethnicity, a heritage wedding can be great for you. These weddings take you to the authentic sites of Chennai and present a real-world picture of true South India.
One of the most popular places for a heritage wedding in Chennai is the DakshinaChitra. It is a museum that showcases the dismantled and relocated homes of South India and serves a truly authentic vibe.
Farmhouse Wedding
For those that belong to Chennai but want to have a true North Indian style wedding, a farmhouse wedding can serve your requirements. There are infinite possibilities for those looking for a wedding in a farmhouse in Chennai. These have breathtaking backdrops and villas that satiate. When you are taking matrimonial services, farmhouses can provide ample of space. The wedding planners can even tell you about the best localities for the same based on your requirements. Rina's Venue, Lakshami Garden, Pushpa Garden, etc., are some of the popular farmhouses in Chennai for the wedding.