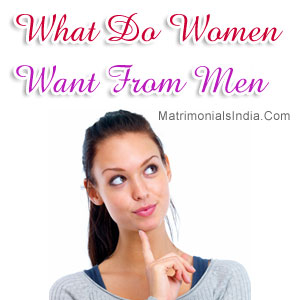 You are gifted with killer looks and attractive personality. Bingo! But hey, is that enough to be a woman's Mr. Right? It is obvious that women get attracted to handsome men very easily but are looks the only criterion to select a man for a life-time commitment? NO! There are other attributes that are equally and generally more important than looks, when a woman is seeking her Mr. Right for the purpose of marriage.
What Do Women Want From Men?
A Sense Of Maturity : Any woman would prefer a man who is mature and sensible. After all, in the long run he will be the head of the family. He will run the family and take important decisions. He must be mature and sensible enough so that he can be relied upon.
Understanding : Woman always like understanding men. A man who understands the needs and desires of the woman in his life will definitely be a promising husband.
Respectful : A woman likes a man who can respect her. Men who judge women with their gender render a chauvinistic image and are a NO for contemporary women.
Financially Independent & Stable : If she has to spend her life with him, he has to be financially independent & stable. It is not important to be stinking rich, but yes financial stability and independence facilitate a smooth livelihood.
Honesty & Transparency: One thing a woman can never compromise with is, the loyalty of her husband. A man should be honest to his partner. He must also be transparent enough to share his problems and issues with her. A woman likes to be her husband's friend. He must trust her and be 100% honest to her.
Looking For Brides Or Grooms ?
Register here Free and Find Easily
They say women are very difficult to understand. They also say that women can never be satisfied, but, if you love her unconditionally and remain by her side irrevocably, she will endure all the good and bad that you give her. She can be your friend if you want her to be. So, respect her, understand her and never be dishonest to her- you will automatically be her Mr. Right!