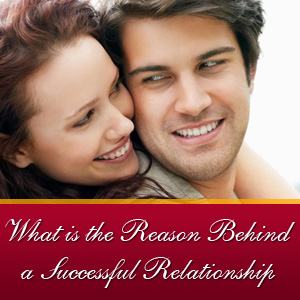 What is the Reason Behind a Successful Relationship[/caption] With age, most of the couples forget the reason why they are together. This happens when they get involved in bringing up their children, making up their career etc. The real fact is that we all must find time to discover our partners more effectively, even though they have always been with us.


Looking For Brides Or Grooms ?
Register here Free and Find Easily
One day after lunch with a friend, Akhil was asked about the "key to his healthy and happy relationship." Akhil then responded, "I am fortunate that I married an amazing woman, and I have made a commitment to emphasize this relationship with her as I have done in other areas of my life: work, friendship. I never thought of taking this relationship for granted nor am I casual about it. My partner has never failed me. On the whole, we make a great team. I get too low when she is not beside me.
Lucky couples like Akhil and his wife know the importance of giving their relationship the first priority. They do not like it getting tampered at any cost. They are also well aware of the main ingredients that are vital in keeping each other content, happy and satisfied. Here are three top secrets for constructing a successful relationship.
The success behind every happy couple is that they enjoy each other's presence, talk well and love doing things together. It is important that the woman to whom you are married always puts up with you no matter what happens.
It is a myth that happy couples do not fight. Good couples fight skillfully. When two persons live under the same roof, it is quite obvious that there might be disagreements and differences in opinion. While fighting it is very essential to take care of the fact that this so called 'fight' only improves your relationship, lest it should not deteriorate. Successful couples always use plural instead of singular pronouns like us, ours and we. Using such words help both the parties to feel that they are not different but part of one team.
Good partners often offer and seek forgiveness. There is nothing wrong in admitting one's faults, and offering an apology. Another important fact is that you need to stand by your spouse during all sorts of crisis, be it financial or emotional.

The aforesaid are some of the secrets that lie in the success of every relationship.