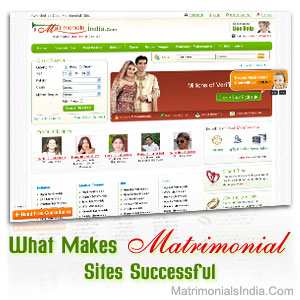 Matrimonial Sites are becoming more preferred by the day across several communities due to the various benefits they provide. After the dotcom boom and growth of e-commerce, the popularity of these sites also started spiraling upwards and till date, such sites continue to be popular as an extension of traditional matchmaking majorly among Indian communities. So what makes these Matrimony Portals so special? Let's find out.
Looking For Brides Or Grooms ?
Register here Free and Find Easily
What Makes Matrimonial Sites Successful?
Numerous Choices : The first prerequisite in finding a suitable bride and groom is the availability of eligible singles where more the numbers, better it is. Breaking many boundaries, Matrimonial Websites have made it easier for singles and their parents to come across hundreds of profiles of singles who are looking for a suitable life partner.
Excellent Classification : Narrowing down to the best choice is an essential step in matrimonial matchmaking and such websites have classification as per community, age, caste, profession, location, likes & dislikes etc. to make this task easy.
User-Friendly Interface : Such websites are quite easy to use and have detailed information to give an insight into the profiles of the singles
Privacy Features : It may seem that by making available so much data on such sites, the security can be compromised but it's not so. Only registered members who have paid are allowed to view more details such as contact details and allowed to send personalized messages.
Success Stories : From time to time several success stories of real-life couples who have met through such Matrimonial Portals are posted for all to see. Description of how they arrived at the profile, how they met and how their marriage ceremonies were held and how the journey for them after tying the nuptial knot so far, is available. This further reinforces the trust people have on such websites.
Horoscope Matching, Compatibility Matching : Matrimonial Websites today are modeled on the traditional model of matchmaking but with a technological twist. The websites have Kundli software and Horoscope/ compatibility matching programs where a few details need to be filled to view the results. This saves a lot of time that would have been spent in running from one astrologer to the other.
Listings of Wedding Arrangers and Wedding Planners : As an added bonus, some of these portals also have listings of caterers, wedding decor firms, marriage halls, florists, wedding planners and other wedding arrangers all at one place.
No wonder then that the popularity of various Online Matrimonial Sites is soaring. Due to this, there is increasing competition and users are able to benefit with the addition of newer and better features, further making the search for a soul mate easier through these online platform.