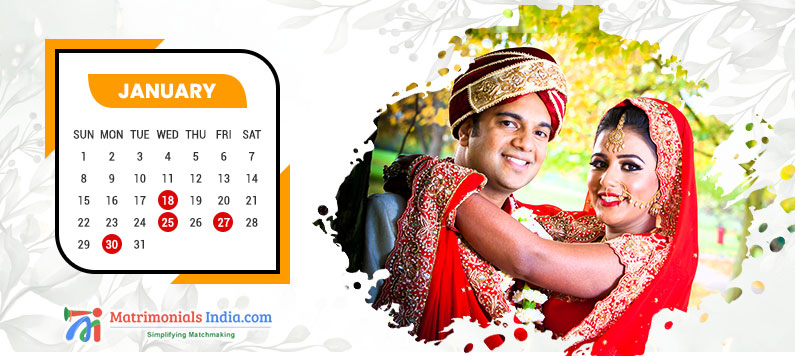 Looking for the perfect wedding date to marry your soulmate next year? If so, then you'll find this blog post useful. All you need to do is find the date that fits best for you!
People have long believed that a significant step like in marriage rituals must be performed on an auspicious day for the bride and groom's welfare, compatibility, and satisfaction. It is perhaps one of the oldest customs still practiced today.
About Indian Wedding
The world over, Indian weddings are regarded as one of the most deeply ingrained rites. An Indian wedding is made more enjoyable and meaningful by the many customs and rituals included. One of the largest gatherings of family and friends in India is likely a wedding ceremony, and to make it better than any other, people go above and beyond.

To make the entire event unforgettable, the most incredible wedding locations, top wedding photographers, and even well-known matrimony wedding planners and decorators must all be reserved. But choosing a wedding date is the most crucial task that comes first on the priority list. We all know that the people in our nation follow a wide range of regional and cultural traditions.

As a result, choosing a wedding date for 2023 in this situation is inconsistent. Some individuals choose their wedding dates based on long weekends, while others choose their wedding dates depending on the type of wedding they desire, such as a summer wedding, a winter wedding, or even a monsoon wedding.

There is a particular group of people who follow the Hindu calendar. Even some families choose their wedding date in 2023 based on the advice of their spiritual leaders, such as pandits or maulvis.
The importance of auspicious dates in marriage
The tone for everything positive and wonderful after that will be established by an auspicious beginning. The same is true with weddings. Everyone's wedding is very important to them, thus no one should take a chance by doing something that could later have an impact on their marriage, Indian marriages place a very high value on auspicious dates.

Professional astrologers choose dates by doing several calculations on the positions of the planets, Nakshatra, and Tithi. The wedding date will impact the pair throughout their marriage, according to mythology. According to the couple's Kundali, horoscope, and Nakshatra, the ideal date is chosen.

Here are all the auspicious days to get married to your soulmate next year according to Hindu calendars:
January
In the majority of Indian regions, January ranks among the coldest months. For couples who have discovered their warmth in one another, this is one of the greatest months to get married. The ideal dates to tie the knot this month are;

• 18th January
• 25th January
• 27th January
• 30th January
February
People worldwide celebrate February as the season of blossoming love, starting with rose day and ending on February 14th.

February is the perfect month to be married if you want the weather to remain moderate. There are several auspicious days to be married in February, as listed below;

• 7th February
• 10th February
• 12th February
• 16th February
• 17th February
• 22nd February
• 24th February
March
The ideal month for getting married is March. When else would you experience a cold wind at night and warm sunlight throughout the day? Due to all of this, the weather is suitable for a wedding and all of its elaborate preparations. The following are a few lucky days to be married in March:

• 1st March
• 9th March
April
Have you considered getting married in the sunset? Summary colors will predominate this month. What could be more exciting than wearing vibrantly colored gowns to your wedding celebration? Pop colors and powerful feelings work well in the spring/summer climate. So be ready to relax in the sun and snap a few natural pictures.

You can find it difficult to tolerate heavy clothing due to the humid atmosphere and heat air. Some of the auspicious days for April weddings include the ones listed here:

• 23rd April
May
Make sure you get married in a hill station or have adequate plans for air conditioning rooms for your guests if you want to be married in May.

There won't be a finer month than this one for a summer wedding. And lastly, this month is ideal if you are planning a destination wedding.

The following are a few of the auspicious days for matrimony in May:

• 3rd May
• 15th May
• 21st May
• 29th May
June
Even though May has some of the best Hindu marriage dates in India, the month of June 2023 also appears promising since it has several days that are perfect for you to celebrate your new beginnings.

The goddess Juno, who is the patroness of marriage and childbirth, is most likely the source of June's name. What could be better this month than getting married? Go ahead, these are the auspicious days to be married in June:

• 1st June
• 5th June
• 12th June
• 23rd June
• 28th June
• 30th June
July
The northern hemisphere's hottest month of the year is typically July. So, if you want to beat the heat, only get married in July. There are only two ideal days to tie the knot in July. They are;

• 9th July
• 14th July
Auspicious Wedding Dates in August-October
The months of August, September, and October are not auspicious times to be married. Again, the auspicious dates begin in November.

Put all of your efforts into completing those last-minute activities during the three months. Use this opportunity to strengthen your family ties and develop them further. After all, when will you ever again have this time?
November
Wedding dates for November are finally available after a protracted search. In terms of weather and schedule, it is perhaps the best time to celebrate a
marriage in India
.
Three auspicious Hindu wedding dates fall in the last week of the second-to-last month of the year. Ladies, the weather will be cool at this time, making a velvet lehenga, an outdoor ceremony, and a traditional winter wedding easy choices. The dates are:
• 22nd November
• 23rd November
• 29th November
December
December is a month filled with celebrations, joy, and holidays. So, if you're thinking of getting married in December, don't hesitate. There are four auspicious Hindu wedding dates in 2023, all of which happen in the second week of December. If you want to be married in the last month of 2023, you're in luck.

The coldest season of the year is now, so be sure to plan your wedding properly. The wedding dates in December are:

• 4th December
• 7th December
• 8th December
• 15th December

And while Indian weddings, like all other things, have changed in scale and luxury, the auspicious significance of this significant life event is still deeply anchored in tradition.

India is a country of diversity with different castes. In such cases, a matrimony wedding is a search. Still, some parents in India prefer arranged marriages over love. And there are tons of possibilities available. Matrimony sites are different from dating sites. They have secured and verified accounts.

So, these are all the ideal and auspicious times to tie the knot with your soulmate next year. To live out the rest of your days in pleasure and tranquility, you can appropriately conclude your marriage.