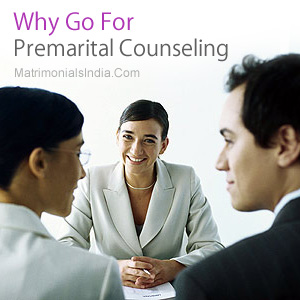 Divorce rates are growing higher day by day. The institution of marriage is losing its credible essence. People are living their lives at a very fast pace. They don't have much time and generally they take decisions in haste without spending sufficient time on critical matters. In such circumstances, Premarital Counseling is the need of the hour. It is important to analyze a relationship and to ensure its well-being. Premarital Counseling serves as the right guide before one steps in a new world marked by expectations, responsibilities and duties.

Why Go For Premarital Counseling?
Resolve your issues: Premarital Counseling gives both partners the opportunity to identify issues and resolve them.
Discuss the pros & cons: It helps them to discuss the pros & cons. It gives a platform to the participants to understand the institution of marriage in a better manner.
Communicate: Communication is the key requirement for any relationship. Premarital Counseling is a platform that facilitates open communication.
Facilitate greater understanding: Premarital Counseling is carried out by professionals. They take a few sessions with the couple and facilitate a better understanding between the partners.
Looking For Brides Or Grooms ?
Register here Free and Find Easily
Every individual has a unique personal history, opinions and values. It is almost impossible that two people will be alike in every way. So, it is very important to discuss and analyze the expectations as well as differences before marriage. Premarital Counseling helps the couple to understand the changes that will come with marriage and makes them ready for those changes. Premarital counselors facilitate an open approach in the couple by making them ready to accept the compromises and newness of marriage. Dating someone is one thing, but marriage is a whole new level of commitment. Whatever, the type of marriage be, arranged or love, it is always advisable to undertake a few sessions of Premarital Counseling. To have a durable, healthy and stable marriage, go for it. It is not something very unusual and has been a part of civilizations in one way or the other. Today, it faces us only in a complete new packaging. Live a peaceful and happy married life, go for Premarital Counseling. Remember, prevention is better than cure!