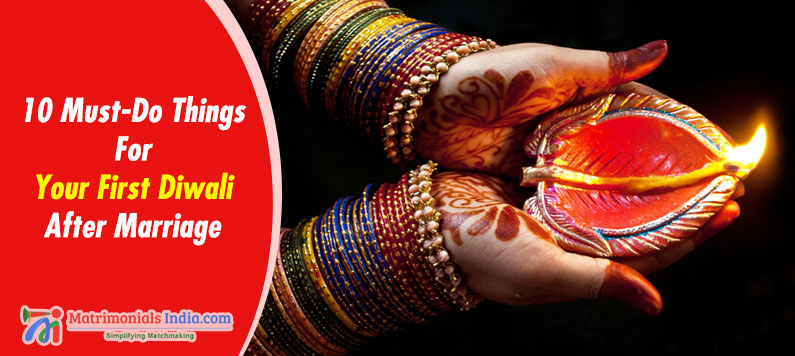 The festival of lights Diwali brings inevitable joy and cheer. It becomes more special when you celebrate it with your newly-wed husband and in-laws in the first year of your marriage. First Diwali after marriage is marked by unlimited festivities and fun. You are surrounded by a new family and everyone has their eyes on you.
You might feel a bit anxious at this moment with the number of chores to complete and keep the fun element alive at the same time.
Diwali after marriage
is bound to be loaded with rituals and traditions that your new family follows. Now it's your turn to own them up and carry them out wholeheartedly.
Read on to find the ten preparations you must take up to make your first Diwali after the wedding cherished.
Go Shopping With in-Laws
Diwalitrends make it necessary to go on that shopping trip. Instead of siblings, your in-laws will accompany you. This is your chance to bond with them and observe closely to get familiar with their taste and style.
Be it apparel, jewelry, Diwali decorations, or many other tiny bits. You could buy special gifts for your in-laws. At the same time pick some gifts for relatives and extended family as well. You must be missing your parents and siblings at this time. Be thoughtful and pick some gifts for them as well.
Take The Baby Steps To Make The House Spic N Span
The thought of Diwali brings along the heaviest task of cleaning up the house. Till now your parents would have taken up the Diwali cleaning and asked you to help here and there. This is not so anymore. This is your new home. So plunge into the cleaning activity right away and participate with others in this necessary chore. Seek guidance from elders and your partner in this Matrimony when in need. Begin early and clean a part of the house each day.
A Gift For Your Special Companion
This is a very special year for both of you. It is your first Diwali after marriage that you will celebrate together. Show your loving gesture to your special companion, your hubby by gifting him something precious on this occasion. Gifts will shower on you as well.
Plan Your Look OnThe FestivalDays
Celebrations are never complete without dressing up and the make-up for those occasions. This is ongoing in any festivity that comes after your Marriage. The first year after your vows carries a special significance. Remember, you will be closely watched by relatives and friends alike.
So pay great attention to looking your best on Diwali. Pick up a traditional dress for the day which will make your look stunning. Wear the makeup in a subtle yet eye-catching way that highlights your looks and complements your dress.
Make Dhanteras Special This Time
You also need to plan well for the pre-Diwali celebration of Dhanteras. It is an auspicious day when the Goddess Lakshmi, Lord Ganesha, and Kubera are worshipped to usher-in wealth and prosperity in life. Newly-wed Brides like you must plan and prepare for this festivity well ahead. It is a popular practice to buy gold, silver, or some utensil on this day.
This is your new home and family. Consult your in-laws beforehand to know their rituals and traditions specific to this day. Take the initiative to shop especially for Dhanteras on the first Diwali after the wedding. This way you will know the household tradition and will build a connection with your new family.
New Customs And Rituals To Follow On Diwali
You will surely get some idea about the rituals and customs after the Dhanteras. But the big festival is yet to come up. There are many unfamiliar things you need to own up to and carry forward.
You are a newlywed member of the household. So take a step forward and get involved with the family to prepare for the puja on Diwali day. Rest assured. Your husband will always be your guide in this matter.
However, it is a good idea to speak to the elders directly about the specific preparations to make for the puja needs. It could be the decoration of the place for the puja or the puja thali to be kept ready. After all, it is your first Diwali after marriage in this house.
Keep a keen eye on the nature of preparations that are done by the female folk of the house especially your mother-in-law. It is a great learning opportunity in the first year of Marriage.
Rangoli, An Integral Part Of Diwali
Rangoli decoration is a part and parcel of Diwali festivities. Participate in rangoli-making the newest member of the household. If you have a good hand at art it is all the better. Plan and create a beautiful rangoli decoration at the doorstep of your new home. Make it eye-catching with colors and Diya decorations.
Are you missing the fun in rangoli-decoration with your sibling? Celebrate the lovable bonds of Matrimonyduringthe rangoli decoration with your husband by your side this year. Do not forget to click pictures of you two making the rangoli. You both will enjoy it equally.
Prepare A Few Delicacies As A Couple
Diwali celebration is never over without the mouth-watering dishes and sweets. Gone are the days when you could just sneak into the kitchen and play the mischief-monger. In the new environment of your home, you take the lead in the preparation of some exotic dishes. It is more enjoyable to do something together as a couple to make it a special Diwali after the wedding.
Make it a perfect occasion to come closer to your loved one. Take his opinion on which delicacies are most liked by everyone in the house and pick something that you two can make together. This moment will be worth your time and effort.
Decorate the house together
Every year there are newer Diwali ideas for decoration items in the market. When you are out shopping, pick up something catchy and unique to decorate your home on this big festivity. Shop for diyas of all types, hanging decorations, lamps, and floral pieces. It will be great fun to shop together.
It is time to place those decorations in their suitable places for the first Diwali together. Pool in your ideas to make this decoration a joint effort. Light up the house with lamps, candles, and diyas in every nook and corner. The fun aspect of Diwali has to be burning crackers together. This is the best way to make this celebration enjoyable.
Party Together This Diwali
Make this festivity a memorable one by throwing a late-night party for friends and family. Call your parents and sibling, this is your chance to meet up with them on your first Diwali after the wedding. It will be a large get-together and will surely add to the fun element of the celebration.
Burst crackers outside the house or play some customary games indoors as per Diwali trends. This party will be a great way to bring everyone together to make the festivities worth a memory.
Ending Thoughts
Diwali is a huge celebration in our country. Its significance increases manifold when Brides enter their new homes after marriage. Prepare thoughtfully in advance to make this occasion a cherished one.