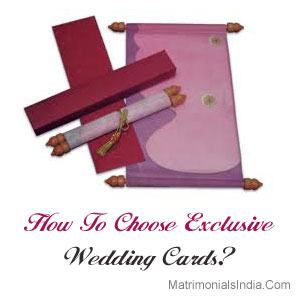 With e-invites gradually taking the place of the wedding invitation cards, wedding cards are being introduced the market with many exclusive designs. Rituals are there to solemnize the marriage, but to make a long-lasting impact and to be the trendsetter; people spend a lot on the different celebrations of wedding. Wedding cards are the medium through which people formally inform and invite their guests about the wedding. With the association of Indian wedding ceremonies with pomp and splendor, and as a matter of pride, wedding cards with unique twists are now available. With so many options your need to have some ways to select the design of the wedding card like :
Search for online wedding card designs : Search for diverse designs online to know what's trendy and what's not. This way, when you finally contact your local wedding card designer, you can easily specify what you are looking for and get the best options.
Search for the wedding card designers online : Several experienced and creative card designers are enlisted online, who are readily available to provide their services across the world. They bring forth innovation and present exclusive designs as per the themes of wedding. Indian wedding cards can be divided into many broad categories. The style mostly depends upon the religion of the people getting the wedding cards designed, but with the increase in the trend of inter-religion weddings, the designs are selected as per the theme of wedding.
Looking For Brides Or Grooms ?
Register here Free and Find Easily
Some of the Indian wedding card categories are :
Religious Wedding Invitations : People of different religion have different preference for the color and motifs of the wedding cards. For example, all Hindu wedding cards have the picture of Lord Ganesha. But, the people of all religion are united in the demand for wedding cards with exquisite designing.
Interfaith Wedding Invitations : With more and more people going for inter-religion marriage, the concept of designing the wedding cards as per the religious specifications is losing the impetus. The Interfaith Wedding cards are designed with freedom to bring about unconventional and exclusive samples.
Themed invitation cards : The modern trend in wedding ceremonies is making arrangements conforming to particular themes. To be different from others people are attracted towards themed wedding cards as well. For example, Scrolling wedding cards are used to invite the guests in a royal manner while invitations with gothic theme, culture-specific motifs can also be seen. With different designs and colors of wedding invitation cards available to choose from, people can easily pick exclusive and Designer Wedding Cards for inviting their guests. These wedding cards can reflect the theme and speak for the grand preparation done for the wedding.