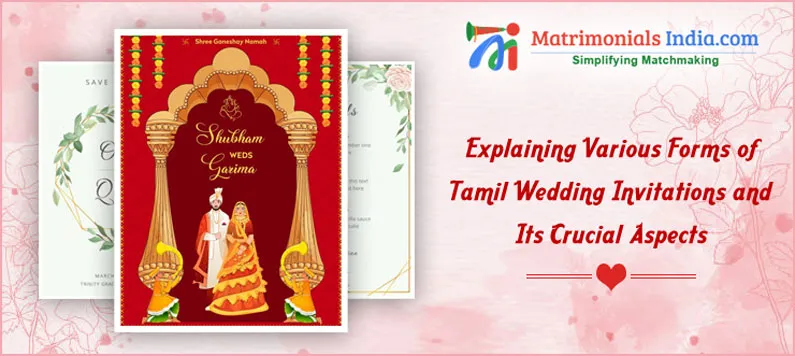 A wedding invitation in Tamil is a letter that contains a gesture of love for inviting guests to a wedding event. Most Indian weddings follow the tradition of requesting relatives to attend the ceremony using marriage cards.

What Makes Tamil Traditional Invites Unique?
The reverse of the marriage invitation in a Tamil card has the names of the Tamil bride and groom's family. This demonstrates their love and respect for their family and relatives. This form of invitation is popular for years together.

Tamil Wedding Invitation
Tamil marriage invitation is likely to be traditional. Today, however, there are several wedding styles to choose from. Let us look at some Tamil wedding invitation concepts

1: Traditional Wedding Cards -
Traditionally, wedding cards begin with a depiction of the intended deity and goddess. Then follow the names of the Tamil bride and groom, ancestral data, and detailed information such as the wedding site and time.

2: Personalized Wedding Cards -
Individual desires and wishes are of prime importance for creating personalized wedding cards. Everything about the designs, such as the color, size, style, Tamil wedding invitation quotes, and paper quality, is all customizable. It is entirely up to you to come up with your ideas for this wedding card.


3: Caricature Marriage Invitations -
Since the bride and groom's faces are in a 3D or painting style, this sort of wedding invitation is engaging and exciting. These invites are typically sent to invite friends to engagement rituals, Haldi, as well as other pre-wedding rituals. Your special wedding invitation text can appear here.


4: Electronic Invitations -
A cardless and paperless invitation is sent electronically. Typically, this form is useful to invite distant guests. To achieve this, people distribute the online invitation using Facebook, WhatsApp, email, and other social media.
The ideal color scheme for your wedding invites is mostly determined by the overall wedding theme and aesthetic. Color is another important factor to take into account when choosing a marriage invitation format in Tamil.

5: Invitation Additions: -
These minor modifications aid in differentiating your invitations from the competition. These Tamil matrimony invitation suggestions alone can improve the appearance and feel of your invitations. You will be able to excite your guests about the wedding.
a): Embossing - The method of embossing involves raising graphics on the invitation to give it a distinctive feel.

b): Foil - Wedding invitations with foil stamps are growing in popularity. An invitation benefits from the excellent texture and gloss that the foil offers.

c): Enclosure Cards - Directions, itineraries, and reception details are all included on these kinds of cards. Ensure that the information is accessible on your wedding website if you do want not to include these in your envelope.

d): RSVP Cards - You must include an RSVP in your marital invitation since they are important. Your website might also house your RSVP system.

e): Wax Seals - For a traditional and beautiful touch, some individuals want to add a personalized wax seal on their wedding invitations.

f): Lace - Consider putting lace or ribbons on your invites if you're searching for a classy method to make them stand out. Before buying, take into account the longer assembly time as this frequently requires hand labor.

g); Customized Stamp - These personalized stamps provide the ideal finishing touch for personalizing your envelopes. It lingers for many years.


Important Points to Consider:
#1: You may always check samples while purchasing wedding invitation cards from a store. Simply choose one that suits your needs and financial constraints.

#2: If you require personalized invites, knowing the many types of paper and printing possibilities might help you bargain.

#3: Custom artwork and infographics like Tamil matrimony male photos are increasingly frequently used to produce distinctive wedding invites.

#4: Do not forget that a minor grammatical error in the content might damage the invitation card while you concentrate on the material type and printing selections. Before publishing the invitation, review it a dozen times and afterward read it once again.

Usually, six to eight weeks before the wedding day, invitation cards start getting distributed. This allows the visitors to have plenty of time to schedule time off or vacation. Giving a realistic date for the response card is also crucial.

Choose one of the aforementioned wedding invitation styles to commemorate your special day. Wedding card designs might vary but are not customary. If you are a prospective bride or groom reading this article, go to MatrimonialsIndia.com and select the ideal match for you. You can easily look for the Tamil matrimony girl phone number and other details necessary for your probable partner.