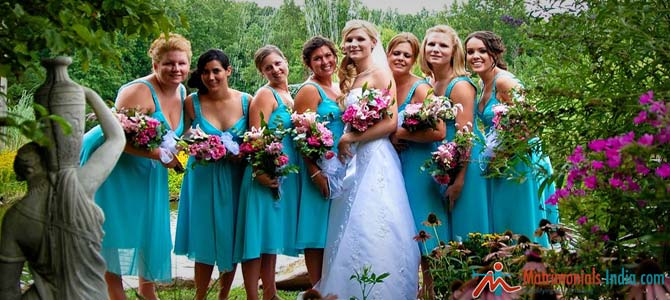 So, your best friend is getting married!

Pretty exciting isn't it. They are finally about to embark upon a new journey of their life and you cannot help but feel happy for them. While you are obviously going to have a blast on their wedding, what tenses you most is how to look glamorous and amazing on their very special day.


Looking For Brides Or Grooms ?
Register here Free and Find Easily
While you do not want to look too sober for the wedding, you cannot even dress to outshine your friend on their very special day. These thoughts can be very confusing but not anymore. Here is the best guide that'll help you look your stunning best at their marriage. Read on to rock the evening with your glamor.
Choose The Type
What Works For Men : People think that there is not much choice for men when it comes to dressing. Not true. Men can choose from ethnic Indian wear like kurta pajama, Indo-western sherwanis and suits or can mix and match to wear a bandh gala with Jodhpuri pants. You can also don a black or casual tuxedo to stand out of the crowd and look your elegant best.
What Works For Women : There is a plethora of dress type for women to wear for their best friend's wedding. From designer sarees and lehengas to gown and anarkali suits; everything would suit if you dress up according to the occasion. Go with the latest trend and don a bejeweled crop top with a long skirt or palazzos to complete the 'best friend' look.
Know Your Color
What Works For Men : As far as the color palette goes for men, the most loved colors are black, white, navy/royal blue and sometimes red. If you are planning to wear a sherwani then you can also opt for pastel shades like pink, blue beige or green.
What Works For Women : Women lead the bandwagon in colors too with the palette filled with all the rainbow colors. You can opt for any color that compliments your skin tone and you'll be done for the night. However, colors like beige, yellow, pink, orange and red are a best friend's favorite. You can also go for dark shades like black or navy blue to experiment with the look.
Accessorize Right
What Works For Men : Men don't have that many options when it comes to accessories. There are brooches, bracelets to go with the ethnic wear and pocket squares, bows and cufflinks for the western suits or tux.
What Works For Women : Although women have plenty of options to accessorize on their best friend's wedding, too much of it can ruin the look. You should know how to balance the entire wedding look. If you are going for a simple dress then heavy neckpiece would definitely help you steal the show and if the dress has enough glam-factor then it is better you opt for heavy earrings and go plain for the neck.
Put Your Best Foot Forward
What Works For Men : Going by the type of dress you are carrying, the footwear is a major cause of concern for the men. You can either opt for juttis or mojris to compliment your ethnic look while formal shoes like Oxford, Derby or Monk would suit the western suit or tuxedo that you wear.
What Works For Women : Once again, women can steal the show with their dazzling shoes. From glittering pumps and stilettos to sling-backs and kitten heels, you can choose from a number of options that would complement your dress. Remember, you are the best friend of the bride or the groom; your footwear needs to stand out as much as you do.
Once you have gone through all these tips and tricks to look your best for your best friend's wedding, it's time you make right use of them and steal the show with your amazing looks. It is obviously the one time to get into matchmaking and embrace yourself for your matrimonial ceremony as well.