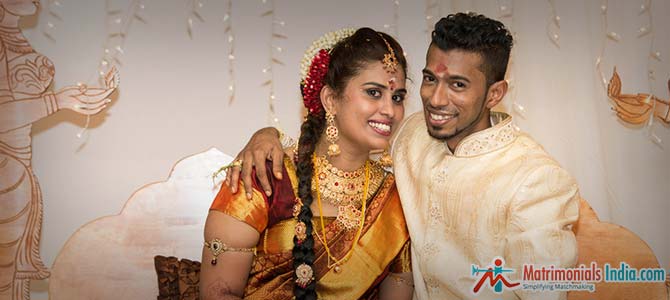 A perfect couple doesn't fight, doesn't argue, spends a lot of time together, is regarded as ideal by the society, and doesn't exist! That is the truth. No relationship on earth is flawless. Furthermore, it is untrue that no couple can become perfect. A couple can become perfect by mutual respect, patience, and tons of love. By accepting each other's flaws and appreciating for little things your partner does for you is like nurturing a garden. These small things keep away the weeds that harm the bond of love between partners. Almost every
Tamil matrimony site
reveals some tips & secrets for a happy married life. Practicing them can bring positive changes in the life of a Tamil couple for sure.
Respect Your Partner
The foremost step for making a Tamil marriage successful is respecting the sweetheart. Individuals should never take their spouses for granted. Respecting him/her & reminding their importance in your life can enrich the relationship in several ways. Never step back in expressing gratitude to your partner. Take a pause from a hectic schedule to say 'I Love You' and see the relationship flourish.
Communicate A Lot
Lack of communication in a relationship plays the bad guy. Any Tamil marriage can reach at the verge of a divorce if there's a lack of communication. Listen to each other patiently and do not interrupt. Communicating with each other always helps in resolving problems a person is facing. Even while you both disagree at a point, it should be resolved by meeting in person instead of texting or over a call.
Don't Be Clingy; Make Room for Separateness
Adoring your sweetheart is fine but being clingy can surely annoy him/her. It is healthy for a Tamil bride/groom to have separate interests. For a happy married life, you should never force your partner to indulge in an activity just because you want him/her to do so. Refrain from clinging to the partner. Taking out some time for one's own self is important to refresh the mind & body.
Honesty Is Essential
A Tamil wedding cannot survive on the foundation of mistrust. At times, there are situations when your partner might not believe or does not want to hear. But, it is essential to speak the truth rather than shrouding it under a lie. The happiest couples are the ones that are honest with each other and do not hide anything.
Connect with families
Usually the bride is expected to set connection with the groom's family but with the changing times it is now equally important for both partners to adjust and connect with each other's family. Whether it is
Tamil marriage
or any other wedding this is one of the most important secrets of 'enjoying' a happy married life. Communicating, caring and connecting with your spouse's family lay foundation for a happy marriage.
Looking For Brides Or Grooms ?
Register here Free and Find Easily
The happiest Tamil couples are those who see their spouse as the best friend, a person who is always by their side in every phase of life. By making these secrets as an integral part of the married life, any Tamil wedding becomes successful.