6 Things You Should Expect From Your Partner In A Relationship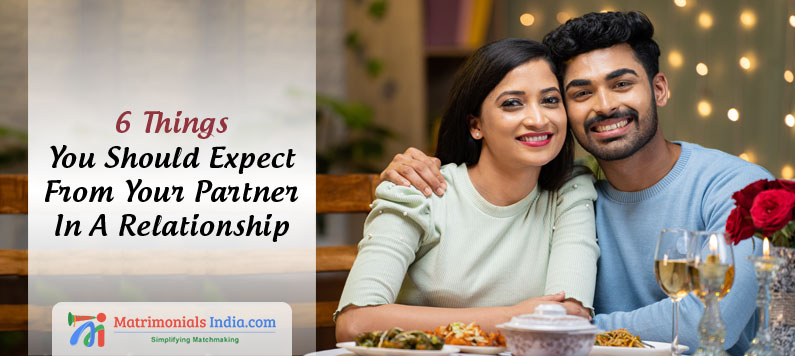 It's a truth universally acknowledged that too many expectations or unrealistic expectations always lead to disappointment in a relationship. They can break even the strongest foundation of love and destroy the relationship. So does that mean that we should completely give up and not expect anything from our partner to prevent the breakdown? No, that would be completely unrealistic and even unhealthy for a relationship. In order to have a strong and healthy relationship with your partner, there are certain expectations that are uncompromising and should never be excused. Let's have a look at the six major expectations that you should have from your partner to make your relationship work.


Priority And Importance: The first thing that you should expect in your relationship is to feel like a priority for your partner. You should be considered an important part of your partner's life and should be treated as a priority before others. Sure, work, friends, family, and other things are also important, but being a life partner for your beloved, you should not feel like being second fiddle to anything. Expect the time, attention, and love of your partner in your relationship to feel like a top priority.
Communication: Communication is another important thing that you should expect from your partner. Not just communicating about the normal routines of life but moreover about the other important things in life. If your partner is connected to you both mentally and emotionally, communication would not be a big thing. You should expect your partner to communicate with you about everything in verbal as well as non-verbal ways. There should be 100% open communication otherwise feelings of disconnection may creep up in the relationship.
Respect: Respect is what makes the foundation of any relationship strong. Mutual respect for the other person and his/her feelings, emotions, opinions, and actions is what everyone should expect in a relationship from their partner. Your boundaries, inhibitions, values, and accomplishments, everything should be respected by your partner; after all, respect is the true sign of a healthy relationship. A genuine respect for the other person should start growing right after matchmaking and should be nurtured even after marriage.
Mutual Understanding: You can definitely expect an understanding of things from your partner to be on the same page with them. Mutual understanding helps you respect your partner better and lets the relationship grow stronger. A balance of understanding is important to connect with each other and know that both of you want the same thing from the relationship. Your partner should be able to understand not just your ambitions, goals, and what you want from life, but also be able to understand your pain and happiness to share them with you.
Affection: We all crave affection from our partner, don't we? And why should we not, affection is the most important thing in any relationship. It brings the feeling of being loved when the other person is showering you with affection. It is completely okay to expect affection from your partner and do the same in return. Physical signs of affection like hugging, holding hands, kissing, or even rubbing the arms are especially important in a relationship.
Support: You should totally expect your partner to be there with you as a strong pillar of support through the thick and thin of life. Your partner should support you mentally, physically, financially, emotionally as well as spiritually whenever you need him/her. You don't want to feel shut down by your partner whenever you look up to them for support. It is a sign of a healthy relationship that you do not feel stranded in times of need and don't have to beg for the support of your partner when you need him/her by your side.
While expecting all these things is normal in a relationship, you should make sure that you are also giving the same to your partner. Be on the same pace with them and remember not to expect anything that you yourself are not able to offer to your partner.