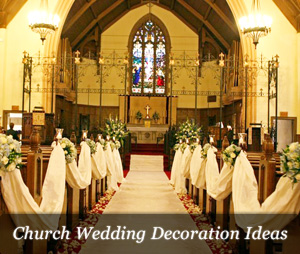 Wedding is one of the most cherished events of anyone's life. Planning a wedding sometimes and especially of the decoration, looks like a task of excitement and sometimes of anxiety or tension. A good option is to hire a professional person for your help and share your ideas & needs with them to work out together for making your wedding day exceptional. But even if you are on your own, here are some interesting ideas to help you in surprising the wedding guests with incredible decorations :
A perfect wedding theme is an excellent idea for making it a great affair. Themes may include decorations with single colored flowers, decorative items, etc.
Awesome church entrance decorations with the help of lights, candles, flowers, potted plants, beautiful decorative fabrics and lots more to establish a wonderful first impression.
Decorating each and every church door with the help of flower wreaths, vibrant colored ribbons, shimmery decorative items and more.
You can also opt for artificial flowers or bouquets that are quite popular nowadays.
Decorating the aisle with petals of rose, sunflowers and other flowers is also another idea to create a naturally beautiful theme.
For wonderful pew decoration you can choose different textured and colored fabrics with a sparkling touch.

Apart from buying decorations, you can make your own decorations as well as rent these products to save your costs. You can search for reliable company in your area or online that provides expert wedding plans and decoration services. With the assistance of these experts you can make the wedding day an unforgettable day of your life.