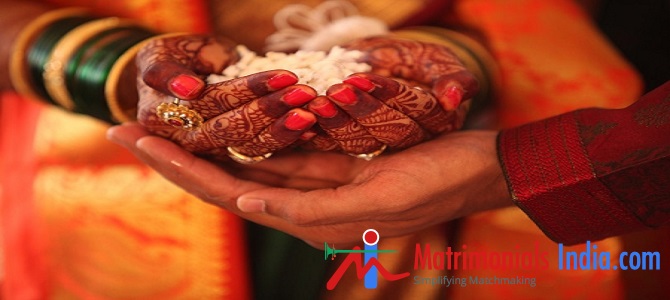 Odisha located in East India is a state of immense biodiversity, abundance of nature, architecturally remarkable temples, and simplicity. This modesty of Oriya people is imitated in their wedding ceremony as well. Odisha is a mystical land. The land blessed by Lord Jagganath. One of the most intriguing facts about an Oriya Wedding is that the groom's mother does not take part in the wedding. The
Oriya matrimony bride
is not only beautiful but highly educated. They look for grooms who have a good education, a stable career along with cultural and family values.
Few essentials to be carried by the Oriya bride are-
Mukuta–
Bride and groom both have to wear a crown which is essential wedding attire. Shimmery and glittery in golden and silver shades which enhances the entire attire of the couple.
Baula Patta–
A bright yellow saree with a red border is a basic what the bride wears during the wedding ritual. She can even put it on her shoulder as a shawl if not wearing.
Alata–
Traditionally, alata was used to colour an Odia bride's hands and feet. This red colour alata signifies auspiciousness and fertility.
Customs and Traditions of Oriya Wedding
Oriya weddings are a perfect example of grandeur infused with simplicity. The rituals and traditions will touch the heart of the people in many ways. Oriya weddings involve numerous customs and rituals, from wedding to Graha Pravesh, there are certain elements which shall always remain the same in the Oriya marriage. Some of the wedding rituals are as described-
Jai Ragada:
Before sending a wedding invitation card to Lord Jagannath in Puri and relatives, there is a ritual to be performed by married women in the family who first worship the millstone and then grind the urad dal.
Mangan:
It is a pre-wedding ritual where the bride-to-be is bathed with seven types of water in the presence of seven married women and Haldi paste smeared on her face and body. This ritual epitomizes the commencement of wedding rituals.
Hastaganthi:
This ritual is an integral part of kanyadaan, where the bride\'s and groom's hands are tied together and placed over the top of the water pot.
Sala Bidha:
This is an entertaining ritual where the brother-in-law of the groom punches him on his back with not much force.
Kaudi Khela:
It is a lively game where a bride and groom hide a shell in their fist and they both attempt to open it up. The one who wins the game influences the whole married life.
Bhara–
When the bride leaves for her in-laws' place after marriage, she takes along 'bhara'. The cartons of sweets include enormous laddoos, jalebi, and many other traditional sweets for her new relatives.
Oriya Cuisine respects both veg and non-veg dishes
Every Indian state entails its specialty in cuisines. In the north, people find spicy food with lots of butter, while those in the South prefer food made from flour, using plenty of coconuts in the food. Orissa is in eastern India, hence there\'s a normal penchant for non-vegetarian meals alongside varieties of traditional and luscious vegetarian courses. The food menu in Oriya matrimony is delightful and traditional.