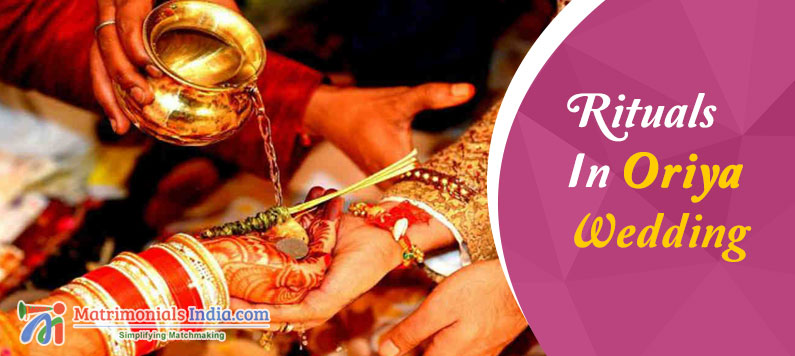 An
Oriya Wedding
reflects the culture of the people of Orissa and takes place over several days. Though a few rituals in Oriya Weddings differ as per the caste e.g. Brahmins conduct it during day time and others during evening or night time but most of the rituals are the same.
The rituals start with the distribution of the wedding invitation and the first one is presented before the Lord Jagannath, highly revered by the Oriya community. After this, the rest of the people are sent the card. After this,
Mangana
takes place where the bride is smeared with Turmeric/Haldi paste and takes a ceremonial bath. Then
Dian Mangula Puja
is done where the deity of the village is worshipped while a barber's wife gives the bangles, toe ring, sindura and sari of the bride to the Goddess to invoke her and seek blessings for a blissful marital life.
Later in the day or night, the procession from the Groom's side (Barjatri) arrives at the marriage venue. The bride is informed about this and takes another ceremonial bath as part of the
Baadua Pani Gadhua
custom.
The main wedding rituals start with the
Kanyadaan
custom where the father formally gives away his daughter to the groom. After this, Hata Ganthi takes place in front of a holy fire amidst chanting of mantras.
Saptapadi
or seven steps are then taken by the bride and groom around the fire and seven mounts of rice representing saptakulaparwata. Then they toss Khoi or rice puffs into the fire as a sacrifice to the fire god. The groom then puts vermillion on the bride's forehead and with this, the wedding is complete.
After the
Oriya Wedding
Ceremonies are over, the bride leaves for her new home along with the spouse and is given a warm welcome by her husband's family as part of the
Girhaprabesh
ritual. After eight days, the couple is invited to the girl's home for a delicious feast as part of the
Ashta Mangala
custom.