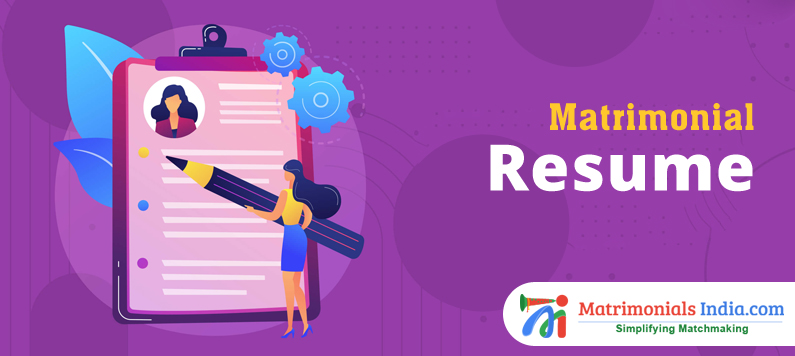 A resume is one of the most imperative documents. Whether it is a professional resume or a matrimonial one, it needs to be framed with extra care. The matrimonial resume is created in order to find a perfect match. It is now become necessary to have such a resume because it helps in finding an ideal match. People often confuse professional resumes with matrimony but they should know that the language and the fields to be added are different in these two.
Most of you don't care to make a Matrimonial Resume. But here are some reasons that will compel you to make one :
It offers your details in an organized manner
It is an easy read for the reader
You can highlight all your plus points in it
The reader can easily locate what he wishes to know
Easy to upload on online matrimonial sites
You get a better exposure
Matchmaking becomes easier and quicker
Now, you know how important is to create a matrimonial resume for yourself. So, you now wish to know how a matrimonial resume is made. Here is the format that you should follow :

Personal Profile: Your personal details are the first things a person wants to know. Following are the fields that you should mention in the personal profile:
Hobbies and Interests: This can include favourite books, cuisine, movies, music etc. These details helps a person understand you in a better manner. These details should be filled in with complete honesty.

Skills: The skills added here should not be your professional skills. You can mention your skills as a good cook, orator, communicator etc.

Work Background: This should entail all your work experience along with the responsibilities that you held but all in a brief manner.

Educational History: This should normally contain information about your higher education.

Preferences: You can list out the things that you want your better half must possess. This can include anything from caste to physical appearance etc. The above-mentioned is the most appropriate format for a matrimonial resume.

Here are some points that you should keep in mind while creating your matrimonial resume :
Do not elaborate on points
Try to provide information in bullets
The font chosen should be clearly visible
Do not use dark background colours
Thus our write-up must have offered you a clear idea of what a matrimonial resume is and why you should have one. So, if you are a bachelor or a spinster then frame a suitable matrimonial resume today.