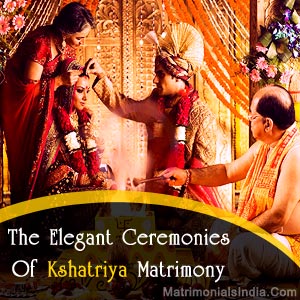 The
Kshatriya matrimony
has many elaborate rituals and events that have a deep rooted meaning and significance. Like all other marriages this wedding also starts off with an engagement. The number of days after the engagement is crucial and marked with many rituals.
Looking For Brides Or Grooms ?
Register here Free and Find Easily
The ceremonies in a typical Kshatriya wedding are described below :
Tilak Ritual : The male members from the girl's family go the groom's house for this ceremony. The bride's brother applies tilak on the groom's forehead. The groom is bestowed with gifts like garments, sweets, sword, etc.
Griha Shanti And Ganapati Sthapana Rituals : The parents of the bride and groom perform elaborate yagnas and pujas to please the Gods thus seeking their blessings. The idol of Lord Ganesha is established on this auspicious day.
Pithi Dastoor : This ritual involves the application of turmeric and sandalwood paste and is meant for both the bride and groom. However this ceremony is celebrated at the bride's house with more pomp. She wears orange Rajasthani attire for this ceremony. After this ritual, the bride and groom are not supposed to leave the house.
Sacred Thread Ritual : This ceremony is significant in all Hindu marriages, including Kshatriya weddings. The groom, dressed in orange, wears the sacred thread while performing yagna with the priest. He is offered two choices, to renounce or to enter household duties. At the end of this ceremony, the groom pretends to run away from the household duties, and the maternal uncle convinces him of the benefits of marriage.
Wedding Ceremony : The Kshatriya wedding is sanctified with the holy yagna fire and with the resounding Vedic mantras. The bride remains behind the veil throughout the ceremony. The wedding is finally completed with the scared Pheras.
Grihapravesh and pagelagni follow the marriage ceremony with a view to introduce the bride to the family. Merriment in the form of dances and songs add color and vibrancy to the wedding. The bride and groom enter a new world towards a happy and bright future.