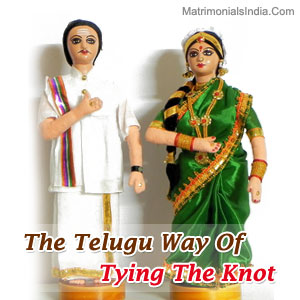 The Telugu Wedding, traditionally called Teluginti Pelli aptly reflects the sense of warmth and the love for culture the people of this community possess. While earlier the rituals lasted for almost 15 day, a modern day Telugu wedding can last for 5 days. This write-up presents an overview of the beautiful wedding ceremony of Telugus.


Looking For Brides Or Grooms ?
Register here Free and Find Easily
Before The Wedding :
Manglam Snaanam : The Bride and the Groom take a sacred bath before the wedding and they are anointed with oil.
Aarti : After the holy bath, both along with their families offer prayers to the God and seek wisdom.
The Wedding :
Ganesha & Gauri Puja: After the couple and their families reach the Mandap, they perform a puja to seek blessings from lord Ganesha and Goddess Durga.
Kanyadan : The Bride's Maternal Uncle carries her in a Bamboo Basket to the mandap. In the Mandap, where a curtain is raised between the bride and groom, the parents of the bride wash the Groom's feet. The priest then starts the wedding rituals by seeking blessings of ancestors belonging to the last seven generations of the families.
Jeelakarra Bellamu : The bride and the groom apply a paste of cumin seeds and jaggery on each other's hands.
Madhuparkam : This is the ritual where the bride and the groom wear white cotton Saree with red border and a dhoti respectively.
Sumangli : In this beautiful ceremony, the bride is accompanied by ten married women. Six out of these women carry plates filled with rice and turmeric and the rest four carry trays with lit diyas that are made with rice, flour, sugar and milk.
Mangalsutra Ritual : To represent the physical, mental, and spiritual union of the couple, the groom ties magalsutra to the neck of the bride with three knots. It is this ritual when the curtain between the bride and the groom is removed.
The Concluding Wedding Rituals : Kanyadaan Akshata, Saptapadi, and Sthaalipaakam: The mangalsutra ritual is followed by the Garland ceremony in which turmeric colored rice along with flowers are showered on the couple. Then, they walk seven holy steps together while their families exchange gifts and good wishes with each other. For the last wedding ritual, the groom puts toe rings on the feet of the bride and takes her to be the companion for the rest of his life.