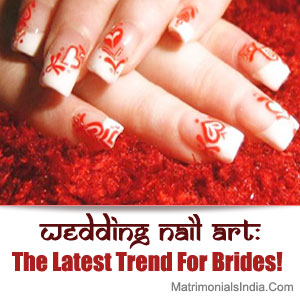 From the vibrant to the most elegant ones, from the colorful to the most decent ones, from the sparkling to the simplest ones, there is an extensive collection of wedding nail art ideas which a bride-to-be can actually choose from.


Looking For Brides Or Grooms ?
Register here Free and Find Easily
Let The Floral Acrylics Bloom :
Acrylic flowers are the trendiest wedding nail art idea these days. If you are actually looking for a relatively natural form of nail design without much presence of vibrancy in it, then it is something you can opt for. Floral acrylic design gives your nails a glamorous and stylish look. A combination of white and pink, the most girly colors, can accomplish the task of making your nails look strikingly attractive and feminine.
Flaunt Your "Jewel" nails
:
This wedding nail art idea is the most special among all. Because of its intricacy, a larger amount of time is consumed to get this form of nail art done. This nail design is also a bit heavier because of the weight of small jewels that are attached to the nails. Overall this multicolored Jewel Nail Design helps your nails to look amazingly captivating and glamorous.
Glam Sham With Wedding Nails
:
If you are looking for a real eye-catching and striking nail design then without any second thought glam wedding nails are the ultimate option for you. Glam Nails is a unique nail design where you can match the color with your outfit and get the nail painted using various techniques. Selecting the right nail art design for your wedding, keeping in sync with your outfit, is an absolute necessity while getting wedding nail art done. If you really want to look charismatic on your D-day, you must start choosing from the large variety of Nail Art designs being done by designers
.