The Matrimonial Sites Help In Making A Booming Marriage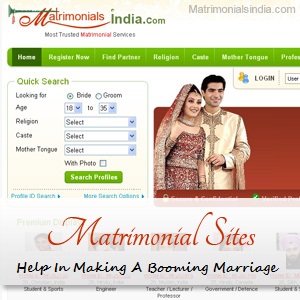 Matchmaking earlier was a one man task for the Indians wherein a priest usually played the role of a matchmaker. The matchmaker role was also played by the relatives, parents and the well-wishers. But today the
Matrimonial Websites
have emerged as the best matchmaker as they have successfully helped numerous couples to find their partners for life. These websites have come out as a popular choice for many when it comes to choosing a soul-mate because they are genuine and guide couples in the entire process of matchmaking. These matrimonial websites are a savior, especially for the Non Resident Indians because they can now rely on these websites in finding someone of Indian origin for their children.
Why Matrimonial Websites Are So Popular?
Matrimonial sites are a boon to Indians settled abroad because they are an alternative to the traditional marriage broker.
Surveys have revealed that that the young generation does not consider it to be necessary to date before marriage. In any case dating was not a part of the culture and love is considered to be mutual and that it comes with understanding and dedication after marriage.
A user needs to register for using a Matrimonial site. After the Registration Process is completed they can upload their profile onto the database of these websites.
Users who are looking for suitors based on nationality, age, gender, caste, etc can expect to find someone of their choice with the help of these websites because one can customize their searches with these details.
A user can filter their preferences as they can go through registered profiles of suitable suitors. These registered profiles are genuine and the required authentication is already done by the matrimonial websites which only makes it safer.
A user has the added benefit of having a lot of options to choose from. They can find the best among the good. Along with it these websites have services like sending alerts or profiles of matching suitors through emails and mobile messages.
These websites have a clear and user-friendly lay out which makes it easy to navigate for its users.There are many established and well-known matrimonial websites, who have perfected their online matrimonial services and help many couples to lead happy lives with their partners. These websites literally have millions of users catering to Indian communities across the world. Finding a partner for life is not something to be taken lightly, so one can always trust these websites and relax as it is certain that they will find the perfect match for you.