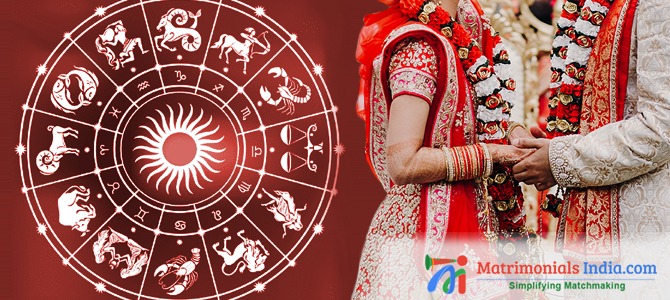 Humans are bound with inquisitiveness, and that is perhaps the reason why we always end up wondering with whom we shall be tying our knot. That we will marry someone and spend our lives with someone is evident and this is what leads us to become curious about the person whom destiny has entwined us with. Seeking help from astrology regarding the best zodiac sign to marry can help us examine the levels of compatibility with others through the 12 zodiac signs.
We have listed all the zodiac signs that you can marry, according to your zodiac sign.Aries: Should You Go with Sagittarius or Aquarius?
Based on your zodiac sign, you might dream of your partner sharing similar traits like you; feisty, interesting, and bold. And for that, both Sagittarius and Aquarius are the perfect zodiac signs for you to marry. While Sagittarians are characterised as easy-going and self-reliant individuals without having any restraints and a great lover of spontaneity, Aquarians on the other hand aren't tenacious by nature and prioritise independence more than anything. This leads us to believe that Aquarians might be the perfect choice for people with the Aries zodiac sign.
Taurus: Cancer vs Scorpio: Which Zodiac Sign is Better for Marriage and Why?
Taureans are known for being overly sensitive and altruistic. And since only an amiable individual can be your best companion, Cancerians and Scorpions are your best zodiac signs for marriage. While on one hand Cancerians are touted for loyalty and their commitment level towards their spouse, Scorpions on the other are generally quite protective. Hence, the qualities in Scorpions are always appreciated by the Taureans.
Gemini: Know Which Sign is Better, Aquarius or Sagittarius
Geminis are considered as the social butterfly of all the zodiac signs, and just like that they always look forward to having a spouse who will be as fun-loving and chirpy as them. Since Aquarians love exploring new experiences through their creativity, they shall always be your perfect match. Sagittarians too are happy-go-lucky individuals who prioritise social life and love indulging in adventures instead of staying indoors.
Cancer: Taurus vs Leo, Which Zodiac Sign to Marry?
Cancerians brim with all the love and dedication required for an ideal relationship, and hence they do not go around looking for someone with similar traits. Rather look for Leos and Taureans to make things even. While Leos's feisty nature will shield you from life's shortcomings, the Taureans will assist you to overcome all kinds of mood swings.
Leo: Which Zodiac Sign is Worth Marrying. Pisces or Libra
The problem with Leos is that they can both portray signs of being illustrious and conceited at the same time. Hence, by choosing Librans and Pisces you can make things even. Pisceans prioritise relationships and can help you prevail in a secure vibe that feels comforting. Librans too make your outspoken personality composed with their maturity.
Virgo: Taurus or Capricorn, Which Zodiac Sign to Pick for Marriage?
Safety and security are two integral contributors of a happy relationship and hence both Capricorn and Taurus are the best husband and wife zodiac signs. Taureans will forever assure with an eternal commitment and happiness. And Capricorns too are known to have the same ideologies as you and this makes these two zodiac signs highly compatible for marriage.
Libra: Aries vs. Taurus, Which Zodiac Sign is Best for Marriage?
Librans are recognised for their righteousness and charming personality. However, they end up encountering serious issues when they turn imperious sometimes. Hence, Taurus and Aries will always have a better understanding of you. When you choose Taureans, they will always value your presence and always try to indulge in activities that you love. As for Aries, they would assist in keeping you on the right track when you get overwhelmed.
Scorpio: Virgo and Pisces, Which Zodiac Sign Makes the Best Pair?
Scorpion's love for keeping things to themselves is reserved and mysterious enough to allow anybody of the same qualities to marry them. In this regard, Pisces and Virgo make for the perfect zodiac sign for marriage. This is because Pisces is chivalrous and can anybody magnetise your attention, thanks to their spiritual personality. Virgos adore finding a treasure in every moment, a quality that might interest you.
Sagittarius: Sagittarius or Aquarius, Which Zodiac Sign Makes the Best Marital Partners?
Being a Sagittarius, you would crave an individual who would participate with you in every adventure that you undertake in your life. This is why there is a strong chance you might consider a Sagittarius when wondering which zodiac sign makes the best husband? There isn't a single zodiac sign which would love spontaneity and independence better than a Sagittarius itself. You can also think of considering Aquarius, as they too have similar traits.
Capricorn: Cancer vs. Taurus, Which Zodiac Sign Can Be Considered for Marriage?
Capricorn's love working as per plans and tends to add structure to almost everything and both Cancerians and Taureans can help you accomplish your ambitions. Both of these zodiac signs have a better understanding of your methodised lifestyle and will respect you accordingly. Both of these zodiac signs share similar ambitions like you when it comes to family planning and marriage and is quite supportive in helping you out morally.
Aquarius: Which Zodiac Sign Matches Your Compatibility, Aquarius, and Gemini
Thanks to their self-reliant personality, Aquarians are one of the most misunderstood zodiac signs of all other signs. Hence, Geminis and Aquarius will always be the
perfect match
for you when it comes to choosing marital partners, presumably because they know how to be friends first before sharing the relationship of a husband and wife, and this is the only thing that can help you to have a better marriage.
Pisces: Aries or Scorpio, Which Zodiac Sign to Prefer for Marriage?
An ideal partner should keep you grounded; hence, Scorpio and Aries are the best zodiac pairs for marriages for Pisceans. Scorpions are quite understanding and are well-aware of all the moods that you have. And the Aries are known to bring out your best qualities by helping them to stay as they are; happy-go-lucky and free-spirited.
Before you decide to take the plunge and tie the knot, it is imperative to understand the compatibility level with your partner based on your zodiac signs. Compatibility levels are worth checking as they can help you stay happy and at peace forever.