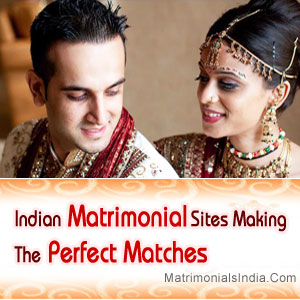 Indian Matrimonial Sites connect the Prospective Brides and Bridegrooms to one another. They provide the platform for the online messages and chats between the prospective partners, which may get converted to meetings and, if all goes well, then marriage. The Matrimonial Sites require the creation of an account via free registration. Information about the other registered members can then be viewed. The amount of information that can be viewed depends on the users.


Looking For Brides Or Grooms ?
Register here Free and Find Easily
Breaking Boundaries
:
The users control what personal information they want to share or hide. As two prospective mates increase their interaction, they can choose to share more information and then finally meet. The diverse nature of the Indian demography poses problems of its own in
searching life partners
. The fact that the population is increasingly showing trends of being displaced from its origins further complicates the process. For example, someone from North India who is settled in South India would face problems while searching for a bride or a bridegroom. The Indian Matrimonial Sites ease the process as a user can have access to prospective mates from anywhere in India and even abroad.
Balancing The Traditional And Modern Matchmaking
:
The Indian Matrimonial Sites also provide the option of selecting the mates on the basis of various criteria like religion, caste, location, income-group etc. Thus, the searches can be made in a very systematic manner. Many married couples who have found each other through the Indian Matrimonial Sites swear by them and happily relate how the site facilitated their meeting and eased what would otherwise have been a search filled with inconveniences.
The Indian Matrimonial Sites are often criticized for turning a family affair into a high profit business. However, the aid which these sites have provided in bringing together soul-mates, who may have never met each other, has to be acknowledged. The Indian Matrimonial Sites are the twenty-first century versions of Kulacharya (the professional matchmaker). They are a very important reason for the survival and redemption of the Great Indian Marriages.