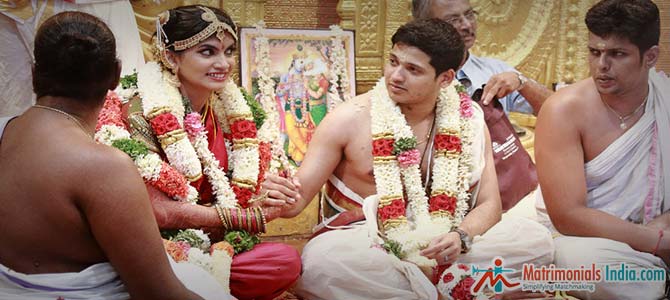 Since time immemorial, Tamil weddings have had that simple and traditional setting with a small mandapa, marigold flower decoration, and shehnai mridangam. But with changing times, the preferences and taste of the Tamil couples have also changed. Top Tamil star couples like Dhanush & Aishwarya, Ram Charan Tej & Upasana Kamineni, Surya and Jyothika, etc., started the trend of a lavish Tamil wedding. Following the steps of these Tamil superstars who hosted star-studded magnificent weddings, a number of Tamil couples have shown interest in organizing a grand event for their Tamil wedding ceremony. For those
Tamil brides and grooms
planning for a lavish Tamil wedding, here are some tips.
Looking For Brides Or Grooms ?
Register here Free and Find Easily
Choose An Exotic Location
The location of the Tamil wedding plays the key role in making it a lavish affair. To make your Tamil wedding look like a royal event, you can choose some exotic location outside the country. Venue with a beautiful view of a stunning country can instantly increase the lavishness of your Tamil wedding. Both the Tamil bride and Tamil groom, along with their respective families, can decide on the country where they want the wedding to take place. Alternatively, there are a number of breathtaking locations in India itself like the Hampi temples in Karnataka, backwaters of Kerala, Mahabalipuram in Chennai, etc.
Ensure An Opulent Venue Decor
Once the location is decided, the venue comes into consideration to give the
Tamil matrimony
event a grand look. Traditionally, the decor of Tamil wedding is done using yellow and orange marigold flowers. To make the wedding look like a royal affair, one can choose exotic wedding flowers like orchids, roses, jasmine, tuberose, lilies, lilacs, etc. These flowers can be used in a number of ways to decorate the entire place in an opulent manner. To make the venue even more amazing, one can get floral canopies, flower chandeliers, flower curtains, flower accents, hanging potted flowers, floral fountain, and inverted gardens, etc., arranged beautifully within the venue. Apart from flowers, other things like canopy of satin drapes or netted drapes, hanging drapes, canopy made from string lights and flowers, string lights wrapped flower garlands on walls, pillars wrapped with fairy lights, twinkling backdrops & ceilings, etc., can add to the grandiose of the event.
Install A Magnificent Mandapa
The mandapa is the heart of any Tamil matrimony ceremony. Traditionally, Tamil weddings have a simple mandapa decorated just with some flowers (lights, and drapes maximum). To make the Tamil wedding grab eyeballs of all the guests, ensure that a magnificent mandapa is installed right in the center of the venue. It should be decorated with exotic flowers, have a flowers/lights/drapes canopy overhead and the pillars should also reflect the royal touch. Diyas, candles, South Indian lamps, lanterns etc., are other items that can be used to add a visual treat to the mandapa. There are many opulent mandapas offered by event planners. Choose the most lavish and grand one to make the mandapa stand out.
Opt For Cutlery With A Royal Look
For those looking to make the Tamil wedding a lavish and royal affair, opting for royal cutlery, made with silver or coated with silver, could be a great idea. Using silverware for serving the dishes at the wedding can instantly give it a royal look. A number of catering service providers can arrange for royal yet stylish serving sets and cutlery to give an instant oomph.
Set a Lavish Theme
There are a number of themes that Tamil bride/grooms have started selecting for their wedding ceremony. To make the Tamil wedding a lavish affair, make the guests dress up in royal and lavish attires. Set a lavish theme to ensure everyone is gelling in with the decor and the preparations done for the wedding. Traditional kanjeevaram silk sarees, lehengas, etc., are common in Tamil marriages. By setting up a lavish theme, the guests can be assured that the wedding would be grand and so they would also dress up accordingly.
Arrange A Celebrity Performance
What makes a wedding more lavish than a celebrity perfuming for the guests. Arrange a surprise performance by the top Bollywood or South Indian star. This would add glamour to the wedding ceremony and make it even the talk of the town. For the music lovers, a classical music night with the top Tamil musicians playing classical songs can also be a great way to make it a grand affair.
Don't Forget Some Exciting Return Gifts
Return gifts are a part of custom and tradition in Tamil wedding. To make the Tamil wedding a lavish affair, one can gift expensive and extravagant gifts to the guests as they leave. These could be silver artifacts, exclusive perfumes, or a customized goody bag with personalized message, some exotic chocolates, and a beautiful decoration piece could be great as return gifts.
Gone are the days when Tamil weddings simply revolved around their elusive rituals. Today, the Tamil brides and grooms are exploring new avenues with their wedding ceremony. They are readily splurging tens of lakhs and even crores to make their Tamil wedding a lavish, grand, and memorable affair.